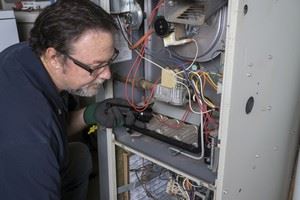 Now that fall is fully in swing, and winter is just right around the corner, many of us have started to find ourselves switching on our home's heating systems to ward off the encroaching chill. As the temperatures start to drop further and further in the coming months, we are all going to start relying on our home's heating systems more and more, and if you haven't taken the time to get your system a professional heating tune-up yet, you could be setting yourself up for disaster this holiday season. There is going to be a lot expected from your heating system in the coming months, and if you don't want to find yourself without heat unexpectedly in the middle of this night this coming winter, one of the best ways to help prevent that nightmare from becoming a reality is to make the call to the professionals and have them come out to give your system a high-quality tune-up before it's too late. To highlight the importance of this task, our heating and A/C team of professionals have taken the time to put together this shortlist that helps to detail a few of the more notable benefits that come along with regular fall heating care. We also help with some of the less than desirable outcomes that you can avoid by making the investment.
Improve Your System Efficiency
Keeping your home comfortable for you and your family during the winter months is something that is high up on just about everyone's priority list, but if you are like most homeowners, you would rather not have to decide between being comfortable and going bankrupt. Keeping your home comfortable doesn't have to cost a fortune, however, and one of the ways to control your heating costs this winter is to make sure your system is running as efficiently as possible by getting your system a professional tune-up. During the course of your tune-up, our team of professionals will go through your system in its entirety and ensure that everything is working properly to keep your system running as efficiently as possible.
Reduce Your Risk Of Breakdown
If you are like most homeowners, at the end of the last winter season you likely shut off your heating system and didn't give it a second thought until you had need of it once again. The issue with that tends to be that because of the strain your system is under during the winter months in keeping your home warm, it tends to develop little hiccups at times, and if you still have any of these issues lingering from last year when your system goes back into heavy use this year, it could lead to very serious issues with your system, and might even cause it to breakdown entirely. Getting your system professionally tuned up now before it has to go into heavy use this coming winter will ensure there are no lingering issues in your system that have the potential to cause further problems. This can go a long way in helping to ward off breakdowns and reduce the need for repairs in the upcoming season.
More Scheduling Availability
Right now is the calm before the storm in terms of heating services. In the coming months, the demand for heating services is only going to increase as more and more homeowners find themselves needing inspections and issues that need repairing. As such, it might become more and more difficult to find a convenient time in the coming months to schedule your heating tune-up. Taking the time to schedule your tune-up now will allow you to beat the crowd and find a service time that works for you as opposed to having to settle for a time that is inconvenient just because it was the only one available. Contact our team at Forest Air Conditioning & Heating today!
If you are looking for a heating and cooling professional in the St. Petersburg & Tampa Bay Area, give us a call today at

(727) 339-5533

or fill out our online request form.