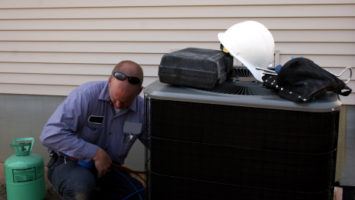 With spring finally here, most Tampa Bay homeowners have finally switched off their heating systems for the year, and are enjoying the brief period of milder weather before we have to switch on our air conditioning systems for the remainder of the spring, summer, and likely most of the fall as well. That being said, if you put your system to bed at the end of last fall without having it properly maintained, you could be setting yourself up for serious trouble when you go to turn it on again later this spring. Your air conditioning system is going to be under a great deal of pressure in the coming months, and one of the best ways to ensure it is up to the challenge is to have a professional come in and give your system an in-depth tune-up this spring. Do you remember the last time you had a professional come in and take a look at your home's AC? If not, we invite you to take a quick read through this short article our team of professionals have put together that might help to highlight why a spring tune-up for your system might just be one of the best investments you make this year.
Repair Lingering Issues In Your System
While it's true that your system probably hasn't been seeing much use over the previous few months, that doesn't mean that any issues that might have been forming last year when you shut off your system for the winter will have magically disappeared or resolved themselves. Many of these smaller issues have likely been lying dormant in your system for a while now, and if you suddenly put your system into heavy use without addressing these issues, you could be setting your system up for failure. With a professional spring tune-up for your system, however, you can have peace of mind knowing that our team of professionals will root out any of these issues and get them resolved before they have a chance to cause any lasting damage on your system in the upcoming year.
Improve Your System Performance
As any Florida homeowner can tell you, it is good to anticipate higher energy bills during the summer thanks to the scorching temperatures we get fairly regularly, and since your home's air conditioning is likely going to be running nearly 24/7 over the next couple of months, it is important to ensure that your system has everything it needs to do so as efficiently as possible. A spring tune-up for your home's AC will help to ensure that your system is properly cleaned out and any small issues that might hinder its performance in the upcoming months, or cause it to work harder than it really needs to in order to cool your home, will be successfully taken care of so you don't wind up having to spend a small fortune on your monthly energy bills in the coming summer season.
Increase Your System's Lifespan & Overall Health
Much like any other mechanical device out there, your home's air conditioning system has a finite lifespan, and the constant wear and tear your system receives over the average spring and summer every year can do a serious number of your system's overall health. Without proper maintenance, all of this wear and tear can cause your system to fail much earlier than it should, or you might find that you find yourself constantly having to shell out money for expensive repairs. By getting a spring tune-up for your air conditioning system every year, you can help to reduce the amount of wear and tear your system sustains, helping to improve its overall health and maximizing its lifespan so you don't find yourself shopping for a replacement before it's time.
If you are looking for professional heating and air conditioning expert in the St. Petersburg & Tampa Bay area, give us a call today at

(727) 339-5533

or fill out our online request form.